Thoughtless Music
presents...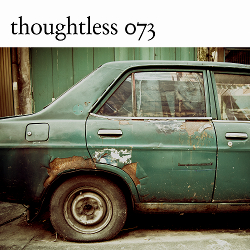 TLM073: Jason Short - Low Down Dirty Shame
With Basic Soul Unit, Blue Soul and Sepehr remixes
Following his remix of Haze on TLM042 and his recent EP for Little Helpers, Auralism boss Jason Short delivers his debut release for Thoughtless, and it's a Low Down Dirty Shame. Employing an insistent arpeggiated bass line on the title track, Short takes us for a wild ride through landscapes of imagining made real by his otherworldly sound design. Following his much-vaunted Motional Response full-length, Toronto's Basic Soul Unit turns in his second EP for the label, a stomping late night affair propelled by staccato snares and claps, and a kick that seems inspired by the title – while his control of the atmosphere shows exactly why he's in such high demand. Newcomer Blue Soul displays his chops with a minimized techno take that splits the original synth bass into two concurrent layers while inserting expansive stabs that interpenetrate the sound effects of the original, while Sepehr's Shameless remix re-purposes Short's sonic layers atop infectious sub bass for what seems to be the most house-influenced take of the three. The Sharp Edge of Possibility shows another side to Short's production ethic, applying his knack for unique audio construction to a heady blend of house and shoe-gaze with potentially euphoric results, while Zone of Middle Dimensions is a journey deep into paranoid limbo facilitated by claustrophobic sound schemes that trace a perfect arc for late night techno excursions. Finally, Eidolons in Aquariums indulges an abstract conclusion of Short's abundant experimentation, floating textures transporting the dub-wise low-end far from the realm of the expected. A clear statement of exceptional ability in the studio, Low Down Dirty Shame is a portrait of an emerging talent on the edge of breaking through...
01. Low Down Dirty Shame
02. Low Down Dirty Shame –
Basic Soul Unit
remix
03. Low Down Dirty Shame –
Blue Soul
remix
04. Low Down Dirty Shame –
Sepehr
remix
05. The Sharp Edge of Possibility
06. Zone of Middle Dimensions
07. Eidolons in Aquariums
Buy it now on
BEATPORT
- but don't just take our word for it...
Very nice wide ranging release. Excited to get all the tracks! Good work. HEARTTHROB, Minus

Really good EP with great electronic textures. Looking forward to playing out. DJ STRYKE, Ovum

Nice tunes - will try out this weekend. Thanks guys! SLAM, Soma

Good stuff - support! SOMEONE ELSE, Little Helpers

Sounds great! BUTANE, Alphahouse

Very cool release, will play this one for sure! PATRICK BATEMAN, Tic Tac Toe

Low Down Dirty Shame is big. Love it. CHRIS FORTIER, Fade

I love this release!!! Will play for sure!! Thanks!! EDGAR DE RAMON, Mindshake

Brilliant release. So much good stuff here. Love the new Jason Short sound! The BSU and Blue Soul remix are the ones I'll play the most I think, but I really love The Sharp Edge of Possibility and Zone of Middle Dimensions as well. Bomb!! ALLAND BYALLO, Bad Animal

Dope release. Thanks a lot! MIRO PAJIC, Items & Things

Gorgeous sonics, like the melodics as well. Solid release. DAVID LAST, Konque

Hämmertime! DEEPCHILD, Trapez

Solid techno release. TOM CLARK, Highgrade

Support - good release. VINCENT LEMIEUX, Musique Risquee
thoughtlessmusic.com