Thoughtless Music
presents...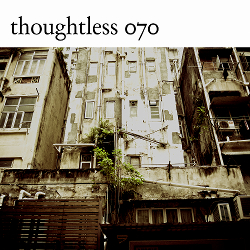 TLM070: Stone Owl - Planet X
With PhonoKemi and Ethan Borshansky remixes
Detroit's latest underground export, Stone Owl embodies the machinations of their hometown with a modern, bass-heavy twist. The duo of Jacob Greba and Eric Novak cast their spell with a careful balance of heavy low-end and intricate sound design, exemplified by the title track of their debut release. Re-envisioning the sci-fi terrain of their Motor City forebears for a new generation is no small task, but it's hard to imagine it done much better than on Planet X: ultra-gravitational bass pulling us through the fractured voices and submerged echoes of a dense future atmosphere. Danish Highgrade artists PhonoKemi step up with an extended deep house alteration that inflates the textures of the original for a high-impact, slow-burning arrangement, while New York's Ethan Borshansky modifies and reassembles the track's core components into an effortlessly integrated dub techno rhythm structure. Closing the affair, Cremation of Care adopts a meditative stance, watching sentinel over a vast expanse comprised of mesmerizing bass tones and constantly shifting undercurrents punctuated by dramatic percussion. Arriving on the scene with preternatural production prowess and a knack for narrative dynamics, Stone Owl is the latest in a long line of homegrown Motown talent...
01. Planet X
02. Planet X –
PhonoKemi
Remix
03. Planet X –
Ethan Borshansky
Remix
04. Cremation of Care
Buy it now on
BEATPORT
- but don't just take our word for it...
Nice EP - tracks 1 and 2 are my faves. SOMEONE ELSE, Little Helpers

Very nice, the Planet X original - thanks!! SACHA ROBOTTI, Klasse

Very cool release, original of Planet X is very nice, but PhonoKemi takes the cake for me here, reduced bassy minimal Berlin house... that's how we roll! Thanks for the good music! PATRICK BATEMAN, Tic Tac Toe

Nice groovy stuff as always! - FINE CUT BODIES, Mothership

The mighty owl spreads its tensile wings o' dystopic darkness... high and wide! DEEPCHILD, Trapez

Nice grooves throughout. Thanks! LUCAS RODENBUSH, E.B.E. Audio

Always been a fan of this label man, but holy crap lately you have been releasing the top shelf intelligence, and this is no exception - bravo! ANDROID CARTEL, Adjunct

Planet X is incredibly funky, loving it completely. The remix is solid as well though doesn't quite grab me quite as much as the original. Cremation of Care is nice and smooth too, very solid work. MIKE CLARK, Dystopian Rhythm

Very sick EP love all mixes. They sound top notch for club. Thanks! PHILIP ARRUDA, Roots & Wings

Very cool single here. All mixes are really cool. Thank you! DJ STRYKE, Plastic City
Take a listen and buy 'Planet X' on
BEATPORT...
thoughtlessmusic.com