ALLADIN PROJECT
**D O U B L E H E A D E R**
F E B R U A R Y
Friday, February 22nd, 2013
- - - IBOGA INVASION - - -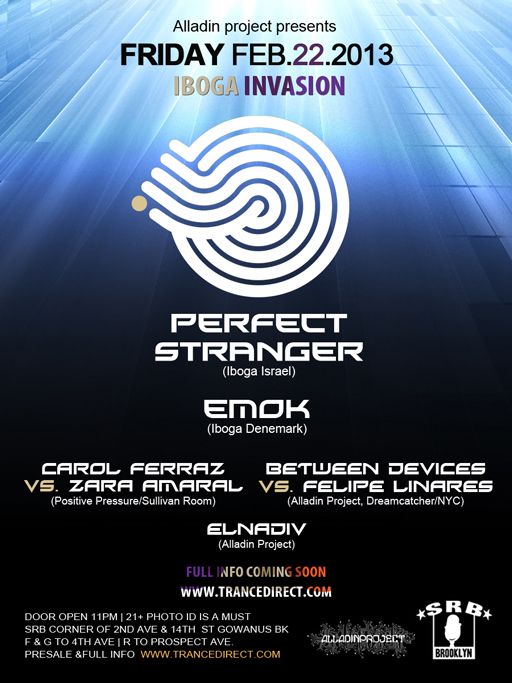 We are happy to welcome TWO legends of techno and progressive trance in the world today:
EMOK the head of the notorious IBOGA RECORDS
& PERFECT STRANGER
a night of powerful and intelligent music awaits us!
Alongside a few of the best DJS on the east coast in special first time tag teams sets. Our dedicated atmosphere and deco team will be transforming the landscape as always.
This Alladin Project DOUBLE HEADER - IBOGA INVASTION is not to be missed: See you all on the dance floor...
5000 Sq Ft WAREHOUSE STYLE VENUE!
State of the Art Sound System
ALL Night Long Affair - Friendly Security
Top Notch Art Installation
MUSIC:
EMOK (iboga Sweden)
PERFECT STRANGER (iboga Israel)
BETWEEN DEVICES vs FELIPE LINARES
(Alladin Project/ Dreamcatcher)
CAROL FERRAZ vs ZARA AMARAL
(Positive Pressure/Sullivan Room)
ELNADIV (Alladin Project) Retrodelic Set
ATMOSPHERE:
LEVITATION THEORY
Mind Bending Video & Pro Projection Installation (NYC)
OCULAR DELIGHT (NYC)
Fabric & Stage Design
http://www.oculardelight.com
And more ……..
Doors open @ 10 pm – 7am
10PM -12AM 2 FOR 1 WELL DRINKS
21+ PHOTO ID IS A MUST (NO EXCEPTION)
*****TICKETS*****
$ 25 ADVANCE
$35 @THE DOOR
LOCATION:
SRB Brooklyn
Corner of 2nd & 14th
Gowanus Brooklyn 11215
Safe neighborhood - Plenty of Street Parking
Easy Access from F & G Trains to 4th AVE
R Train to Prospect AVE
THIS EVENT IS EXPECTED TO SELL OUT
SO MAKE SURE YOU
GET YOUR TICKET IN ADVANCE
http://www.trancedirect.com/